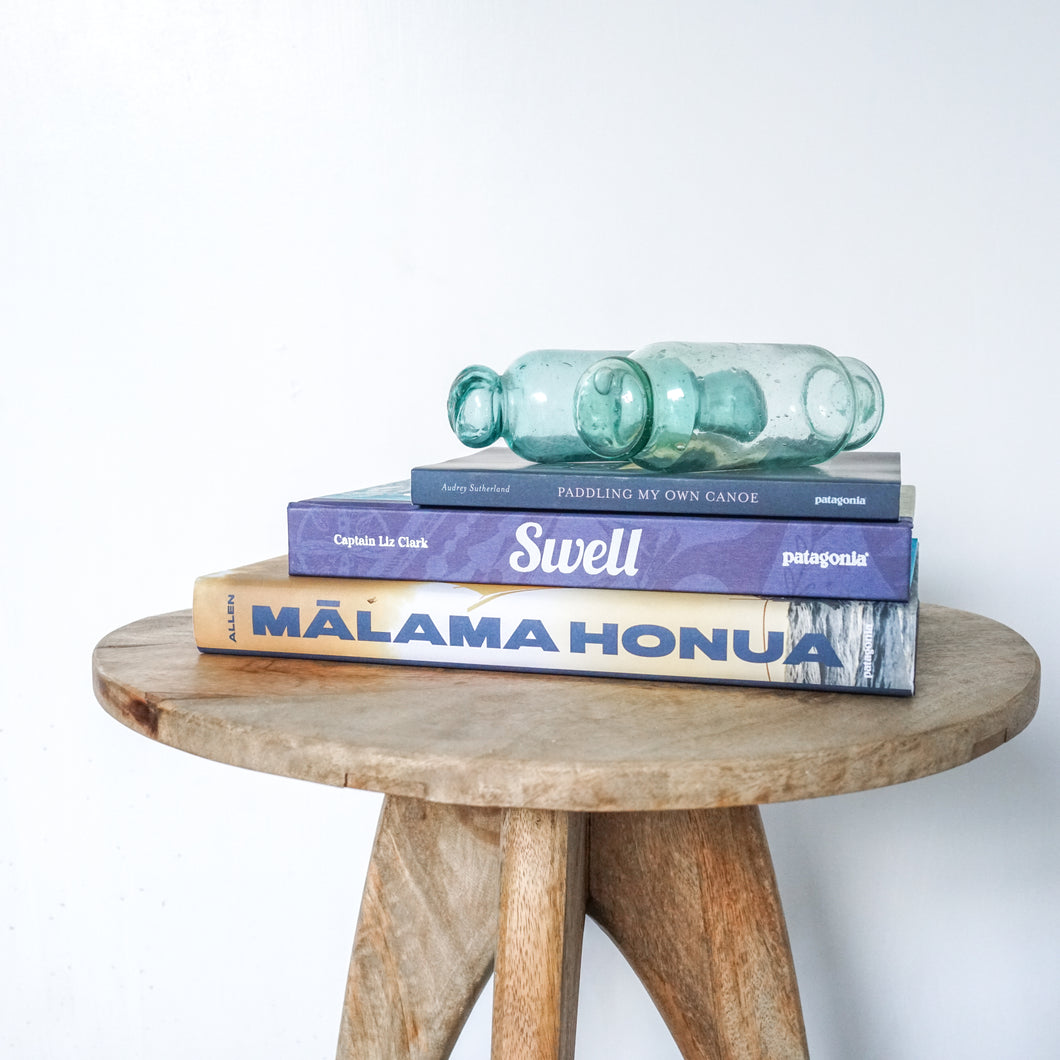 Books of the Ocean
Regular price $64.00 Sale
Paddling My Own Canoe: In 1958, while flying from one island to another, Audrey Sutherland sees the remote and roadless northeast side of Molokai, with its spectacular sea cliffs and waterfalls. Always an adventurer, she decides that she must find a way to explore this then inaccessible area. After much study, she determines that the best way for her to navigate these treacherous sea walls is to swim while towing an inflatable kayak. This is the story of fulfilling her dream, of planning then implementing, of launching and advancing, of retreating and reconnoitering, of challenge and success. This is the story of the trip that convinced her that personal growth comes when one goes simple, goes solo, goes now.
Swell: Captain Liz Clark spent her youth dreaming of traveling the world by sailboat and surfing remote waves. When she was 22, she met a mentor who helped turn her desire into reality. Embarking on an adventure that most only fantasize about, she set sail from Santa Barbara, California, as captain of her 40-foot sailboat, Swell, headed south in search of surf, self, and the wonder and learning that lies beyond the unbroken horizon. 
Malama Honua: From the launch in Hawai'i in May 2014, around the world 60,000 miles, to 23 different countries, this beautiful hardcover book chronicles Hokule'a's epic mission to raise awareness of and nurture worldwide sustainability.

Interwoven with descriptions of Hokule'a's experiences in port are the voices of the master navigators and crew members, who guide the ship along the ocean's trackless path using only stars, birds, wind, and seas -- non-instrumental wayfinding techniques-- and the local pioneers -- scientists, teachers, and children touched by Hokule'a' -- who work tirelessly to weather the many environmental challenges in our modern lives. This is a story about our need to draw together into one global community. By respecting one another and nature's delicate and intricate systems, this book captures the many ways indigenous cultures are committed to living in ecological balance.