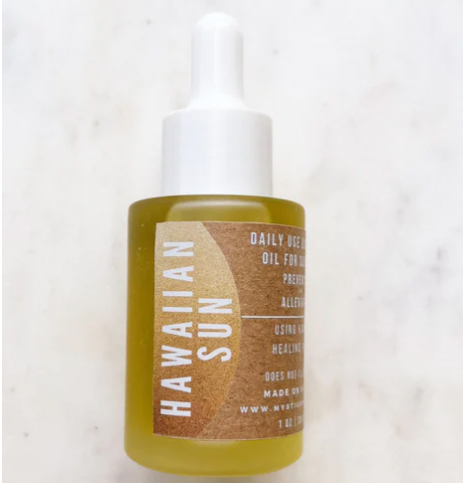 HAWAIIAN SUN
Regular price $50.00 Sale
Daily use Botanical Oil

 

for SUNBURN prevention + alleviation 
OILS :: Kukui Nut Oil (Cold-Pressed // from Maui // Certified Organic)
PLANTS:: Naupaka + Noni (leaf)
ESSENTIAL OILS :: Helichrysum ▴ Lavender ▴ Peppermint (No pesticides, synthetic chemicals, herbicides, GMOs or harmful chemicals are ever used during any stage of the growing or distillation process)
~ CRYSTAL INFUSED ~
Created as an everyday oil to optimize skin health while also preventing + alleviating burns from the sun's intense rays. Safe for kids & pregnant/nursing mamas. 
Hawaiian traditional healing plants, noni + naupaka are used for their sun protective properties.
Noni has been used in Polynesia for over 2000 years for food, medicine and dyeing of traditional clothes. Its medicinal usage includes the amelioration of skin ailments (among many other conditions) such as skin rash, acne, bruises, skin wounds, redness + inflammation and sunburn.  Recent research backs up these traditional uses.
Naupaka commonly grows in tropical coastal areas throughout the Pacific and Indian oceans. Oral tradition suggests that this plant may have been used as a natural sunblock, and recent studies support this historic oral tradition. A 2021 study** reveals UV-blocking properties evident in naupaka, at a level of SPF 20. 
Our Maui sourced kukui nut oil is full of essential fatty acids, vitamins and antioxidants that leave the skin glowing. It is great for healing wounds, relieving sunburn, dry skin acne and reducing cellulite. It is full of moisture that protects skin from sun, salt, wind and other environmental elements we face. It has a comedogenic rating of 2, which means it will not clog pores or leave your face feeling overly-oily.

Lavender + Peppermint essential oils add natural sun protection, with SPF of 6 & 7, respectively. Bulgarian Rose and helichrysum is added for skin cell rejuvenation. 
Helichrysum essential oil is used as a sun soother to calm irritated skin that's been burned by the sun.
Infused on Kaua`i with prayers, affirmations & love
NOT FOR INTERNAL USE!! 
ORGANIC
1 oz | 30 mL
*These statements have not been evaluated by the FDA. This product does not intend to treat, diagnose, cure, or prevent any disease.
 **Tsuen, K.R., Lager, C., Ross, M.C., & Hagedorn, M. (2021). Examining the UV-Absorbing Properties of Scaevola taccada (Goodeniaceae) and its Potential Use as a Sunscreen. Pacific Science 75(2), 225-236. https://www.muse.jhu.edu/article/798101.